Passerine Plan: Click to Enlarge

The Issues
Save Guana Cay Reef is not against development, we just expect it to be environmentally sustainable, at a slower pace, and for the Bahamian people to benefit.
Three meetings were conducted in Guana Cay with reference to the proposed development at the north end. All were held with less than 24 hours notice and the final meeting was cancelled without any reason given. There was nothing less than total disapproval of the entire project by the attendees. Government officials stated that this was in the early planning stages and that they were here to get opinions. Now, all of a sudden, the Prime Minister declares that the project has been approved and that this is why Abaco does not need any hurricane relief.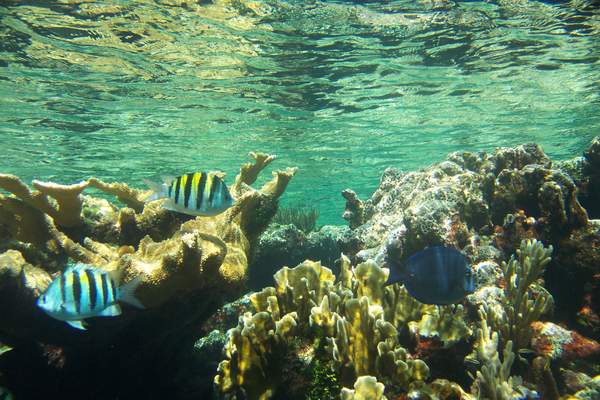 Although there was general disapproval of the project, three points were made clear, and supposedly taken away:
1. Crown land was to be reserved for the use of generations to come NOT to be given away.
2. Joe's Creek was to be left intact so as not to destroy the fragile environmental ecosystem that exists there.
3. The golf course was not a good idea because of the impact that fertilizers and watering would have on the reef that lies less than 50-feet offshore.
Here is what the elected officials did after asking for the opinions of the Guana Cay residents:

1. They GAVE away land on Guana and Gumelemi Cay, for a total of 105-acres. This was crown land that should have been set aside as a legacy for Abaconians and their children.

2. They have granted permission for a 240-slip marina in Joe's creek. This is more than Boat Harbor Marina on Great Abaco, which is rarely full. How do the developers expect to fill a 240-slip marina, and when they do, what effect will it have on Joes Creek?

3 They have approved the golf course, which is basically a death sentence for the reef that lies offshore of Bakers Bay. There is a world-class golf course at Treasure Cay, just a 20-minute ferry ride away.
An Open Letter from a concerned Bahamian:
One of the world's oldest living inhabitants has been convicted of excessive beauty and the ability to generate large profits for a select few. Did you miss the trial? Don't feel bad if you did ...it was really easy to miss. It wasn't on Court TV. or even well publicized. In fact it seems to have taken place while the majority of concerned citizens were thinking of their survival in the face of multiple blows by Mother Nature. But now the verdict is in and the death warrant has been signed. The method of execution is slow drip lethal injection. The reef is scheduled to die. Passerine development on the North end of Great Guana Cay has been approved. Along with this development will come the certain destruction of a pristine natural wonder that runs along the entire eastern shore of the Abaco islands in the Bahamas. While citizens and homeowners were left to deal with the cumulative effects of multiple hurricanes the passage of this massive development was slipped in to the agenda of the future plan for Abaco. If you are one of the many who has been lucky enough to come to know this natural wonder of Abaco consider yourself warned that the fate of the reef is sealed. The sound you hear is the clock ticking. We can stop this with your support. Tell PM Christy NO!
Here are some fast facts about this unfortunate development
1.) An eighteen hole Tom Fazio designed golf course is planned. Ultra exclusive!! Ultra expensive!!! All previous courses built by this company follow the same plan. Golf Course construction and maintenance will provide the most destructive punch to the surrounding eco-systems. Huge doses of chemicals, many of which are suspected of causing various cancers, will become routine in their application. Even though this developer claims they will use organic chemicals, these chemicals have the same destructive effect on the surrounding air and marine environments. High nutrient load whether it is organic or not is POISONOUS for the reef.
2.) Hundreds of home sites are included, which will more than double the islands residential population. In addition, 60 rental units are planned, increasing the stress load on utilities and the islands waste management systems.
3.) Last but not least a 240-slip marina requiring a man made harbor seals the deal. This is to be dredged out of the last marine estuary on the island, and built on Government land. This marina WILL be the LARGEST MARINA on any individual site in Abaco. Boat Harbor has 190-slips, Treasure Cay has 150 slips. Even Nassau and Grand Bahama can't compete with Atlantis at 63-slips and Old Bahama Bay at West End with 72. Even treated sewerage and brackish water runoff from the watermarks in these large quantities will destroy the reef. Furthermore, there have been no guarantees made for clean up of fuel and oil spills in this massive facility.
It is up to us, the residents of this island nation, to prevent this devastating loss. With construction slated to begin January 1st the time to act is now. It won't cost you a single penny to voice your opinion on this impending eco-disaster. Please Act Now

<![if !supportLineBreakNewLine]>
<![endif]>